Storage without cellar
Investment - Living space
"A cellar belongs to a house!" - a sentence that has long since ceased to apply. Every third house builder in Austria decides against a cellar. Many builders also recommend a construction method without a cellar. The reason for this is most of all the enormously high costs for a "low quality" of the area. In sub-optimal soil conditions a cellar can cause up to 100% additional costs.

Instead of financing an expensive cellar part of the budget can be invested in the above-ground living space. The rest of the money is saved. This results in a better quality of life. Conventional cellars do not serve as living space anyway, only as storage space for junk. Also, the technology of a house does not necessarily have to be underground. A small room on the ground floor is enough to accommodate the heating technology, for example. On average, a family needs only 20m² of storage space, situational cellars are always significantly larger. This results in expensive unused space. Also, the well-being increases when you look through the window into the garden, instead of on grey cellar walls, while washing and ironing.
Advantages of houses at ground level
Immense cost savings due to floor plates
Barrier-free provision for the elderly, but also suitable for children
Higher quality of life through more living space
No complications with soil conditions
No accumulation of junk
More decluttering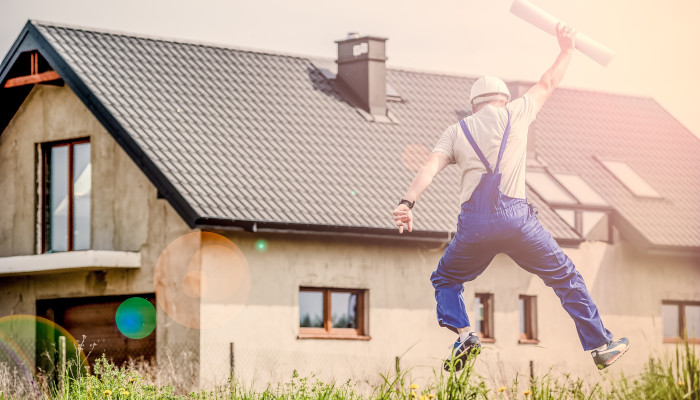 Rental warehouse as an alternative
Of course, life without a cellar can intertemporally lead to a lack of space. You should bear in mind that not all things are needed in the house always. Skis, snowboards, swimming equipment and various decoration articles, for example, can be stored seasonally externally. Rental warehouses offer a solution to extend the limited storage space in the house as much as required.

Selfstorage means, renting small or large storage compartments externally. It should be noted that not all providers offer the same. Costs, handling, locations and conditions can vary greatly. Prices are often intransparent and in many cases lockable containers, on the outskirts of the city, sell themselves as selfstorage. However, nobody want to store expensive sports equipment or other personal valuables unheated, somewhere outside the residential area, do you?
Storebox-your storage next door
Storebox offers a modern selfstorage-system, with many locations in your neighborhood. This brings a lot of advantages with it. With storage compartments of 1-20m² the excess storage requirements are met. The compartments at Storebox are all heated, video-monitored and equipped with smart sensors. These measure air humidity and temperature and thus ensure optimum storage conditions. 1m² is available from 7€ per week. This is definitely cheaper and more efficient than building an elaborate cellar.

You can insure your content up to 10.000€. A completely digitized booking process simplifies the handling and enables you to book a compartment online in less than 2 minutes. With your personalized access code you can use your compartment 24 hours a day, 7 days a week.
Additional features such as environmentally friendly storage boxes, heavy duty shelving and a transport service are also available.
If you are interested in a storage compartment as an alternative to a cellar, just call 0800 366 64 46, write an e-mail to service@storebox.at or book directly online on our homepage. You can also use the contact form at the bottom.

Your Storebox-Team
Fair Prices
Compartments can be booked in various sizes and cost from €36,99 per m²/month, plus flexible insurance packages.
24/7 Access
Your compartment is available immediately after booking and can be accessed around the clock with your personal access code.
Smart & Safe
All Storeboxes are accessible on the ground floor, doubly secured, monitored and insured.
5017


storage compartments
98


Storeboxes europe-wide