Storage during a conversion in Berlin - Germany
Chaos conversion
In the case of a conversion, even more needs to be considered than in the case of a renovation. Not only the question of whether the conversion should be carried out by the client himself or with professional support, but also whether the façade should also be finished in addition to the interior. A conversion always involves an enormous amount of time and work. Many questions arise during the conversion.
Here you will find the 10 most frequently asked questions and answers about building and renovation.
In addition to many helping hands, a lot of building materials and tools are needed. Furthermore, the interiors to be renovated must be cleared out and covered to prevent damage and soiling. All this requires space - which is often not available. Afterwards we give an overview where all things can be stored during a conversion.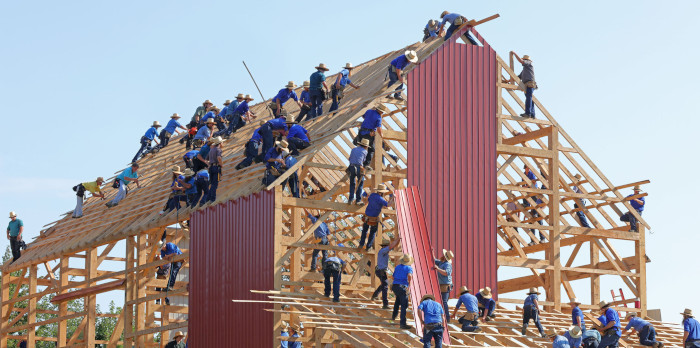 Where to put building materials and tools?
A lot of work and a lot of materials are required during a conversion. Also, all furniture and other items in the living area must be safely stored during the conversion. In outdoor areas, these things can only be stored to a limited extent, as building materials can be damaged due to different weather conditions. Tools can start to rust and for furniture the outdoor area is completely unsuitable. Also garages or cellars are, also for a short time, no suitable storage places for residential interiors.
Selfstorage – practical storage during conversion
Selfstorage is the optimal option to store your belongings safely and effortlessly during a conversion. For example, building materials, tools, furniture, decoration or carpets can be stored in a selfstorage compartment. Compared to a basement, garage or attic, an external storage room offers all the factors an intermediate storage needs - it is dry, heated, locked and video monitored. A problem would be, however, if the warehouse were far away from the construction site. The interim storage facility should guarantee maximum flexibility. Simply pass your storage on the way to the construction site, take out the building materials and get startet. Storebox offers you just that:
Storebox – your storage next door in Berlin
Storebox is the selfstorage provider near you. With central locations in Austria and Germany, Storebox operates the most modern selfstorage system in Europe. Smart storage places in urban areas guarantee more than just maximum flexibility. All Storebox locations are video monitored, insured and equipped with smart sensors. They measure air humidity and room temperature to ensure optimum storage conditions.The values can be checked in real time with the smartphone at any time. Compartments are available between 1 and 20m².

The booking of your compartment is completely online. You will receive your personal access code as soon as the booking has been completed. Now your warehouse is available 24/7, 365 days a year – no time-consuming viewing appointments, contract signings and key transfers, and also no commitment period. You can cancel monthly.
If you still have questions about your interim storage facility in Berlin, just call 0800 366 64 46, send an e-mail to service@storebox.de or book directly on our website yourstorebox.com or via App (iOS or Android).

We are looking forward to hearing from you and wish you a lot of fun with rebuilding and storing!

Your Storebox-Team
Fair Prices
Compartments can be booked in various sizes and cost from €36,99 per m²/month, plus flexible insurance packages.
24/7 Access
Your compartment is available immediately after booking and can be accessed around the clock with your personal access code.
Smart & Safe
All Storeboxes are accessible on the ground floor, doubly secured, monitored and insured.
5017


storage compartments
98


Storeboxes europe-wide