Storage in Berlin - Germany
Overview
Berlins population is growing and according to the Office of Statistics Berlin-Brandenburg it reached a population of 3,711,930 people by the end of 2017, which grew by 41,308 residents within just one year. The districts Mitte (+6.558), Treptow-Köpenick (+5.475) and Pankow (+4.883) have grown the most. Pankow was also the first of the districts to exceed the 400,000-population mark, which would theoretically make this district the 16th largest city of Germany. The following graph shows the population based on the total population (color intensity of the area) including migration background data.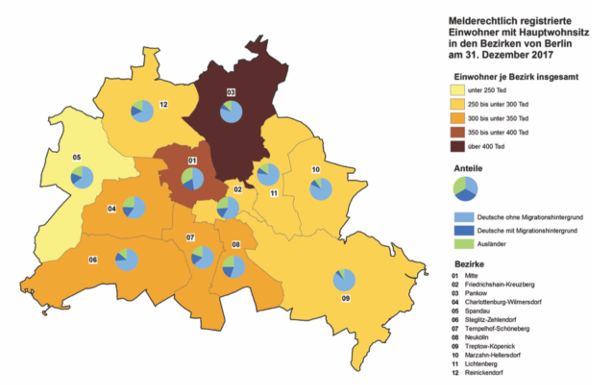 Lack of Space
Due to the strong increase in the number of residents and the resulting high population density, there is an acute lack of space. Similar to other metropolises in Europe, the following trends are very common in Berlin and create a need for more space, both for individuals and businesses.
Space-saving housing concepts, often designed for singles
Old buildings with cellars in original condition, which are not modernized
Attic conversions for more living space in urban areas
Compactly designed offices with little to no storage facilities (documents and files)
Need for more possession
Storages & warehouses nearby
Selfstorage, a modern rental warehouse concept that makes it possible to flexibly rent storage compartments or halls, proves to be a good alternative if there is not enough space. This way storage goods, such as documents, files, furniture, moving goods, summer/winter tires, hobby equipment, seasonal decoration and more, can thus be stored externally. Tenants can thus outsource storage and select the right storage provider for themselves. Berlin is home to companies such as MyPlace, Shurgard, Pickens, Lagerbox, ELFA und Selfstorage-Discount und auch Storebox, which in total operate around 20 locations with compartment sizes ranging from 1-100 m² with square meter costs starting at € 28 per month. Generally, prices fall as the size of the compartment increases.
Storage in Berlin
Storebox already opened many Storebox rental warehouses in Berlin and is constantly expanding its warehouse network. With smart warehouses in urban areas that can be accessed around the clock, 365 days a year, Storebox offers a very practical and above all easy way to store in Berlin, but especially in your neighborhood. There are optimal storage conditions, as temperature and humidity are measured by sensors, but also a safe storage environment through video surveillance and insurance.
At our website you can select your Storebox warehouse in Berlin. You can also call us at 0800 366 64 46 or contact us by e-mail at service@storebox.de


5441


storage compartments
104


Storeboxes europe-wide