The Selfstorage market in Innsbruck
Why does Innsbruck need selfstorage compartments?
Innsbruck - Tyrol's most populous city has long since ceased to be a small town. With approx. 132.000 citizens and around 300.000 inhabitants in the entire conurbation, Innsbruck is the fifth largest city in Austria and has a population density of 1.264 inhabitants/km².

In Austria, the population is growing annually by around 60.000 people. The strongest regions are Tyrol, Lower Austria and Vienna. Forecasts show that Innsbruck will grow more strongly than the federal capital Vienna in the future. In 15 years, more than 150.000 residents should be settled in the city, which corresponds to an absolute growth of around 25.000 people. According to Statistics Austria, this is the strongest percentage growth in Austria.

As explained above, the Tyrolean provincial capital is not spared out from the growth trend. In addition, it must be mentioned that Innsbruck is also a popular student city and therefore about 30.000 students have currently registered their secondary residence in the city. The continuing population growth brings with it not only positive effects for the economy but also some difficulties. In this article we address the issue of lack of space. We explain how it is created and also offer a proper solution.

How lack of space develops in larger cities is actually obvious. The influx creates more demand on the housing market, which pushes up prices considerably. New living space in construction projects is thus designed smaller to accommodate more people. Hence, storage space is eliminated. Many construction companies do without cellars, as these cause very high costs.

To create new storage space, even in small apartments, a selfstorage compartment is ideal.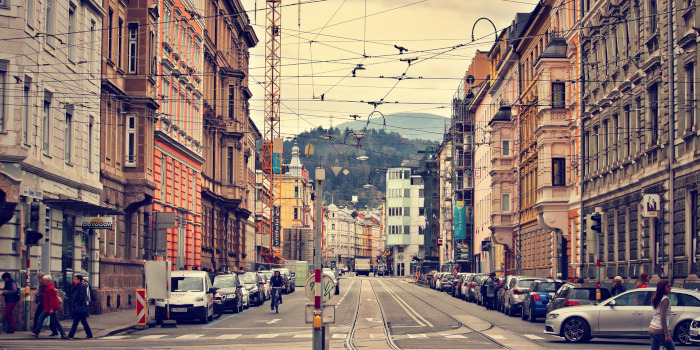 The advantages of selfstorage
The selfstorage concept offers a perfect solution in many respects. A big benefit is the rental of small storage compartments. You only have to rent (and pay for) as much additional space as you actually need. Compartments are already available from 1m2. A warehouse can be used for many things.
A few examples:
Files, documents and books
Winter/summer tyres
Children's clothing
Furniture and decoration
Bicycles and additional sports equipment
Building materials and tools
…and much more.
Storebox – your storage next door in Innsbruck
The selfstorage provider Storebox is now opening up the Innsbruck market due to its franchise concept. With smart storage compartments in the city centre, Storebox ensures maximum security and flexibility. Even sensitive items can be stored easily. All locations are equipped with surveillance cameras and smart sensors. They measure room temperature and humidity in real time to ensure permanently optimal storage conditions. The booking of a warehouse is very easy online. Simply select a compartment of the appropriate size at the location of your choice, specify the desired storage period (can be cancelled monthly), possibly add additional features such as environmentally friendly storage boxes or heavy-duty shelves and complete the booking. Immediately afterwards, your new compartment will be available 24 hours a day, 7 days a week.
If you have any questions about your selfstorage compartment in Innsbruck, simply contact us at 0800 366 64 46, send an e-mail to service@storebox.at or fill out the contact form below.

We look forward to hearing from you and wish you lots of fun with your new warehouse in Innsbruck!

Your Storebox-Team
Fair Prices
Compartments can be booked in various sizes and cost from €36,99 per m²/month, plus flexible insurance packages.
24/7 Access
Your compartment is available immediately after booking and can be accessed around the clock with your personal access code.
Smart & Safe
All Storeboxes are accessible on the ground floor, doubly secured, monitored and insured.
5441


storage compartments
104


Storeboxes europe-wide