Rent a storage space in Düsseldorf – self storage
Why is a trip to Düsseldorf worthwhile?
Düsseldorf, the state capital of North Rhine-Westphalia, is a small modern city where you can experience a lot. It has a lot to offer for a city trip - hip shops, countless cafés and restaurants as well as a lot of art and culture. Düsseldorf's nightlife also leaves nothing to be desired. Some of the country's most exclusive clubs and discos are located there. In addition, almost everything that is very attractive for a city tourist can be reached by foot.

In order to get an overview of which places are really worth visiting and to get rid of the cliché that Düsseldorf only consists of an espresso on the Kö and fur-wearing ladies, this blogger helps with many insider tips, knowledge and self-experience:
Why rent a warehouse in Düsseldorf?
The state capital Düsseldorf is also the official seat of the administrative district with the same name, Düsseldorf. With over 600.000 inhabitants, it is the second largest city in North Rhine-Westphalia after Cologne. Düsseldorf is the seventh largest city in Germany in terms of population. It is located in the heart of the Central European economic area and, according to the Mercer study, occupies sixth place among the cities with the highest quality of life in the world.

The popularity of the city can also be seen in its continuous population growth. Experts forecast an increase of 1,5% by 2025. By 2030, around 645.000 people are expected to live in Düsseldorf. In addition to positive effects for the economy, such an upturn will above all result in a lack of space for the population. The traffic is getting more, the houses are getting higher, the apartments smaller. In order to counteract this problem, which occurs sooner or later in all larger cities, self storage compartments are suitable as an optimal space extension.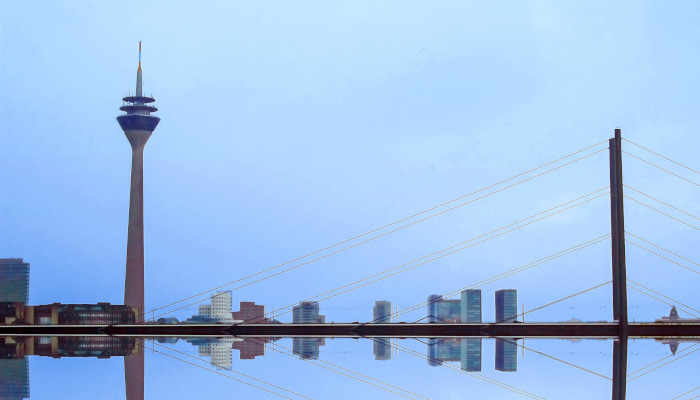 Self storage – secure and flexible warehouse (video monitored, 24/7 access)
Whether as a permanent extension of living space or as an interim storage facility, a storage compartment plays a practical role in many everyday situations. Compared to other storage options, such as containers on the outskirts or large warehouses in logistics centres, a self storage compartment in the city has several advantages. On the one hand it is centrally located and therefore easily accessible, also by public transport. It also offers maximum security through state-of-the-art monitoring and access systems.

The self storage provider Storebox also runs the highest flexibility that a warehouse can offer. In the following we bring you a little bit closer to Storebox and explain what advantages it actually produces.
Storebox – Rent a storage space in Düsseldorf
Storebox is a Viennese start-up with seats in Vienna and Berlin. It takes the concept of self storage to a whole new level. Smart locations in urban spaces bring the warehouse to your home. Storebox locations are placed either in the city centre or in residential areas and not somewhere on the outskirts of the city. This enables you to integrate the storage room into your everyday life as a practical extension of your living space.

All Storebox locations are video monitored and insured. Smart sensors measure humidity and room temperature in real time to ensure permanent perfect storage conditions. The values of the sensors can be checked at any time with the smartphone.

Booking a compartment is very easy. Simply select a compartment online in the appropriate size (available between 1 and 20m²), at the location of your choice and complete the online booking in less than two minutes. There is no mandatory commitment period. So, you can cancel your warehouse monthly. Your personal access code will be sent to you immediately after the booking has been successfully completed. Your compartment is now available 24/7. Therefore, you can store around the clock, 365 days a year and are not bound to any opening hours.
If you have any questions about your smart warehouse in Düsseldorf, simply contact us at 0800 366 64 46, or write an e-mail to service@storebox.de.

We are looking forward to hearing from you and hope you enjoy your stay in Düsseldorf!

Your Storebox Team
Fair Prices
Compartments can be booked in various sizes and cost from €36,99 per m²/month, plus flexible insurance packages.
24/7 Access
Your compartment is available immediately after booking and can be accessed around the clock with your personal access code.
Smart & Safe
All Storeboxes are accessible on the ground floor, doubly secured, monitored and insured.
5441


storage compartments
104


Storeboxes europe-wide