Secure file storage in Germany
Obligation to preserve business records in Germany – Overview
The archiving of certain documents and files is very important in business life, since contracts, warranties and product liability, for example, can still be important retroactively. Especially if the statute of limitations has not yet expired. The retention periods for commercial and tax law are the most common, here is an overview:

Commercial letters, business papers and other documents of tax significance must be kept for six years for merchants. Commercial books, inventories, opening balance sheets, annual balance sheets, incoming and outgoing invoices, individual financial statements, management reports, consolidated financial statements and group management reports must be kept for ten years in accordance with the German Commercial Code (HGB).

Private individuals must archive invoices and receipts of tax significance for two years. For a period of five years, manual services that are subject to a warranty obligation should be kept.

In business, it is customary to keep company agreements, patents, court rulings and similar important documents permanently, even if there is no provision for more than ten years.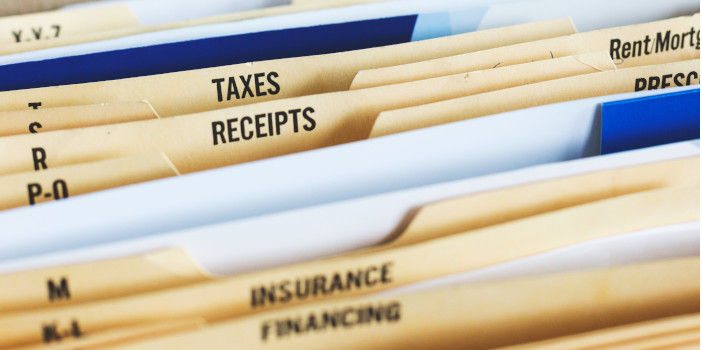 Storing files and documents correctly
Files and documents subject to retention must remain legible throughout the entire period. Annual financial statements and opening balance sheets must be kept in the original. Commercial and business letters and invoices must be archived in such a way that they visually correspond to the original. All other business documents must have the same content as the original.

It is recommended that files and documents subject to retention be sorted chronologically and filed quarterly. If the Ministry of Finance requests access, it must be made within a reasonable time. Besides, searching in vain in a file chaos is certainly no fun.

After proper sorting, all files should be safely stored in a box. To keep the overview a detailed labelling of the boxes is recommended. Conventional removal boxes are only conditionally suitable for storing the files correctly. Cartons do not seal airtight, which causes humidity to reach the paper. This in turn causes the paper to turn yellow, and signatures and stamps can quickly lose their color or, in the worst case, become illegible. To prevent this, we recommend airtight storage boxes.
Selfstorage for file storage
Not every office is large enough to store the entire inventory of files and documents of 10 years or more. A selfstorage compartment is an excellent space extension.

Storage conditions are also crucial, when choosing a suitable storage space. Above all, the indoor climate is very important. A temperature of 18-20°C and a relative humidity of 45-55% would be ideal. Direct sunlight should be avoided, so that the papers do not fade.

A selfstorage warehouse also offers the advantage of flexible sizes. No matter whether you are an SME or a group, there is a suitable department for every company. Security is also provided in a selfstorage compartment.
Storebox – your storage next door
Storebox has all the features a secure file storage need. All storage compartments at Storebox are video-monitored and insured. Smart sensors measure room temperature and humidity, to ensure optimal storage conditions. The values can be checked in real time with the smartphone.

Additional features such as environmentally friendly storage boxes (which seal airtight) and heavy-duty shelves help, to keep the storage compartment tidy. Compartments are available from 1m².

A warehouse can be booked either online or via app (iOS or Android). Immediately after completing the booking you will receive your personal access code. Your compartment is now available 24/7, 365 days a year.

Storebox locations are centrally located, so storage can be very flexible. In Germany there are currently locations in Munich and Berlin available. As part of our franchise-concept, we are continuously expanding our locations.
If you have any questions about your file storage in Germany, simply contact us under 0800 366 64 46, send an e-mail to service@storebox.de or visit our website yourstorebox.com.

We are looking forward to hearing from you!

Your Storebox-Team
Fair Prices
Compartments can be booked in various sizes and cost from €36,99 per m²/month, plus flexible insurance packages.
24/7 Access
Your compartment is available immediately after booking and can be accessed around the clock with your personal access code.
Smart & Safe
All Storeboxes are accessible on the ground floor, doubly secured, monitored and insured.
5441


storage compartments
104


Storeboxes europe-wide