Decentralized storage – perfect for your company
Why renting a decentralized storage?
You have a company that offers services all over Austria? The business area extends over different cities and regions, then decentralized warehouses are exactly the right thing for you. Instead of picking up daily work utensils such as tools, building materials or equipment and machines from a central office, it is much easier to always have all the necessary things on site. Not on the outskirts of the city at a headquarter, but directly at the customer in the inner-city area.

Decentralized warehouses help to save unnecessary travel times. It is also easier to keep order in many small storages than in a large central warehouse. Simply rent a compartment in the cities, store all the things you need for your daily work and be perfectly equipped in every region every day. In addition to saving unpleasant and costly travel times, a decentralized storage also guarantees maximum flexibility and safety. A warehouse can also be used as an interim storage facility for orders that extend over a short or longer period of time. Even delicate papers, such as files and documents which are compulsory to safekeeping, can be conveniently and securely stored in a storage compartment.
What can be stored in a warehouse for example:
Tools
Equipment and machines (electricity infrastructure is given)
Products and goods
Furniture and decoration
Sports equipment
Files, documents and books
Selfstorage
Selfstorage compartments are the most practical option in these situations. They can serve not only for private purposes as a living space enlargement. They are also appropriate decentralized storage surfaces for companies. Simply rent a compartment in the suitable size in all cities required and storing can begin. Besides, the single sizes can vary of course. In regions where only a few orders take place, you only have to rent a small compartment. Whether in areas where more material is used, you can make use of a larger storage facility. All that uncomplicated and clear through one supplier:
Storebox – your partner in the area of storage
Storebox – your storage next door,is the selfstorage provider near you. With many locations iin the inner-city areas in Austria and Germany, Storebox creates storage facilities in your neighbourhood. Compartments are available between 1 and 20m². All locations are video monitored and can be insured up to 10.000€. Smart sensors measure humidity and room temperature, to ensure optimal storage conditions. The values of the sensors can be checked any time on a real-time basis with the smartphone. With your personal access code your storage is available immediately after completing the booking, 24h a day, 7 days a week, 365 days a year. There are no opening hours, therefore maximum flexibility is guaranteed for your company.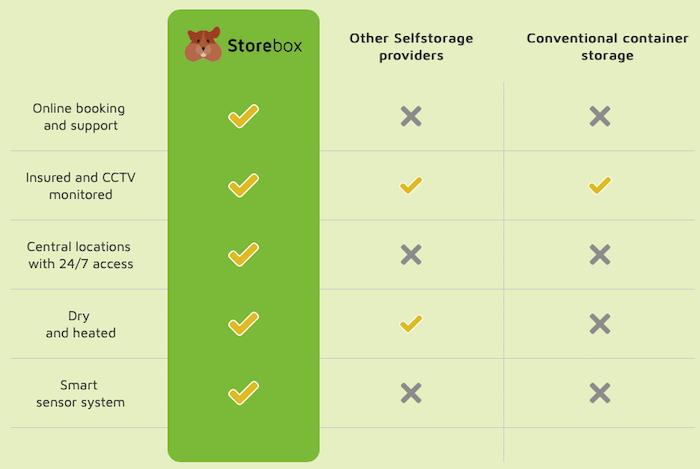 If you would like to have Storebox as a strong partner in the matter of storage by your side, contact us simply at 0800 366 64 46 or write an e-mail to service@storebox.at. We have certainly a suitable offer for your company.

We are looking forward hearing from you and we would enjoy working together with you.

Your Storebox-Team
Fair Prices
Compartments can be booked in various sizes and cost from €36,99 per m²/month, plus flexible insurance packages.
24/7 Access
Your compartment is available immediately after booking and can be accessed around the clock with your personal access code.
Smart & Safe
All Storeboxes are accessible on the ground floor, doubly secured, monitored and insured.
5441


storage compartments
104


Storeboxes europe-wide