Digital burial - phaseout with a fatality online
Benu.at – the burial platform
Benu.at is a digital burial platform, which makes it possible to phaseout a fatality, completely without pressure, from home. Dealing with a death and planning a funeral is probably one of the most difficult tasks in life. In addition to the emotional aspects, the entire process requires a great effort of time and money. It is very difficult to get an overview of the entire burial offer.

Benu simplifies this difficult situation considerably. With Benu you can easily plan a funeral from home. Benu is transparent and brings the topic of burial to a new contemporary level. We explain how a funeral can be carried out in four steps.
Four steps to burial
In four simple steps, a burial can be organized with Benu. Personal service also plays a decisive role in this.
1. Online planning
Step one is online planning. The upcoming burial will be designed according to all wishes on the website. The costs incurred will then be transparently listed in a non-binding offer.
2. Personal agreement
The online planning is followed by a personal conversation. Here, time is taken to answer all questions. The offer is adapted until it meets all expectations.
3. Complete all formailities
As soon as the offer fits and is confirmed, Benu takes care of all the formalities. For example, issuing the death certificate or deregistering from the social security system. Benu can also take over the regulation of the digital estate.
4. Carrying out the burial
The Benu Team will also be on site on the day of the funeral. Together with Benu's funeral partners, the burial is carried out and supervised according to all expectations.
Benu offers a complete package on the subject of burial. This means that only one contact person is responsible for all upcoming matters, which greatly simplifies the entire process. Benu takes its time and is always available for any open questions and suggestions.
Advantages of Benu – handle a death without any pressure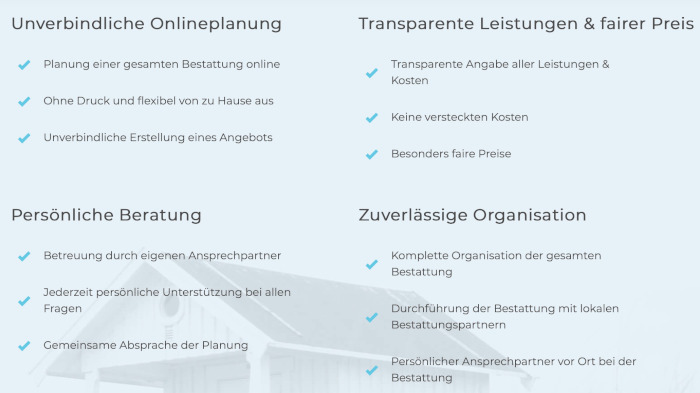 Where to put the legacy/relief?
When a person dies, many organizational questions arise in addition to the entire mourning process. One of these is the question of what is to be done with the entire relief. In principle, the estate of a person is bequeathed to his relatives. But the question has not yet been answered, because what should the heirs do with the estate? Above all, you don't want to throw away personal memories and special heirlooms. However, these also do not always find place in the own four walls.

Benu offers a complete solution and therefore, of course also takes care of this topic. All heirlooms and memories can be stored conveniently and securely at Storebox via Benu. Storebox is thus the warehouse for your legacy.
Storebox – the storage for your legacy
Storebox - your storage next door, is the selfstorage-system in the 21st century. Storebox operates central locations in Austria and Germany. All locations are video-monitored and insured. Smart sensors measure humidity and room temperature to ensure optimal storage conditions for all your favourite items. The values of the sensors can be monitored with the smartphone in real time. With your personal access code, the compartment is available 24/7. This guarantees maximum flexibility. This means that you can store all the time. Compartments are already available from 1m².

We hope we could give an overview to the topic "Benu - the digital funeral platform" and would be pleased us thereby to have helped.

If you have any questions about your Benu storage, just contact us at 0800 366 64 46 or send an email to service@storebox.at.

Your Storebox-Team
Fair Prices
Compartments can be booked in various sizes and cost from €36,99 per m²/month, plus flexible insurance packages.
24/7 Access
Your compartment is available immediately after booking and can be accessed around the clock with your personal access code.
Smart & Safe
All Storeboxes are accessible on the ground floor, doubly secured, monitored and insured.
5441


storage compartments
104


Storeboxes europe-wide